All of our WordPress themes include deep integration with Instagram. We are an an officially approved Instagram for Business provider, meaning you can connect your account directly to your pipdig theme to show your latest images in a safe and secure way without needing any plugins.
IMPORTANT: Instagram changed their system in March 2020. Please make sure you are using the latest version of your pipdig theme via this guide before connecting Instagram.
How to connect your site to Instagram:
1. Go to pipdig > Instagram in your dashboard to connect your account: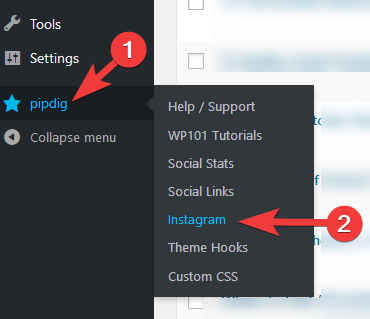 2. Click the button to request an access token. This will take you to a page on our website which allows you to get an access token from Instagram.
3. After getting the access token, go back to the Instagram page in your WordPress dashboard and copy it into the box.
4. Click the "Save changes" button. If the settings have worked, a message will display saying "You are successfully connected to Instagram":
Once connected, you can activate the various Instagram features of your theme, such as the Instagram Widget or Instagram Feeds in the header/footer of your site.
Article tags: ig feed, instagrma, instagrm, Instagram plugin