Product Collections allow you to group products together and display them in a widget/page. For example, you might have a Product Collection called "Shoes", which you add all show products to. You would then be able to display those shoes in the Shopr Carousel widget or other options.
Collections can also be used to display products within a post/page. For example, if you created a blog post about your favourite horror books in 2017, you might create a "Favourite Horror Books 2017" Collection.
Another example would be if you created an outfit/style post. You could create a Collection of all the clothing items you are wearing and then use this to display the products in the post itself.
Product Collections work in a similar way to post categories. You can add a product to as many Collections as you like. For example, you might have a new handbag which is in a "New for 2017" Collection, and also in a style post Collection separately. You could then display the same product in a widget and within that particular blog post.
You can access your Collections via the Shopr > Product Collections page in your dashboard: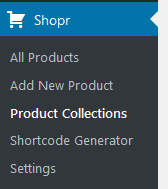 Collections can also form different sections of the main Shopr page. For example, the tabs shown below are all different Product Collections which people can browse: