Note: If you experience any issues uploading products after updating to WordPress 5.3, please check for any plugin updates and complete as required. If you need any help you're welcome to email [email protected]
Adding products to Shopr is as easy as creating a blog post. Follow the steps below to create your first product.
1. Go to Shopr > Add New Product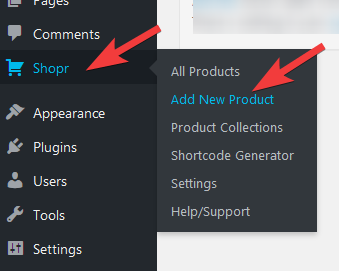 2. From this screen, you can give the product a Title, Subtitle, Price, Image and add it to a Collection: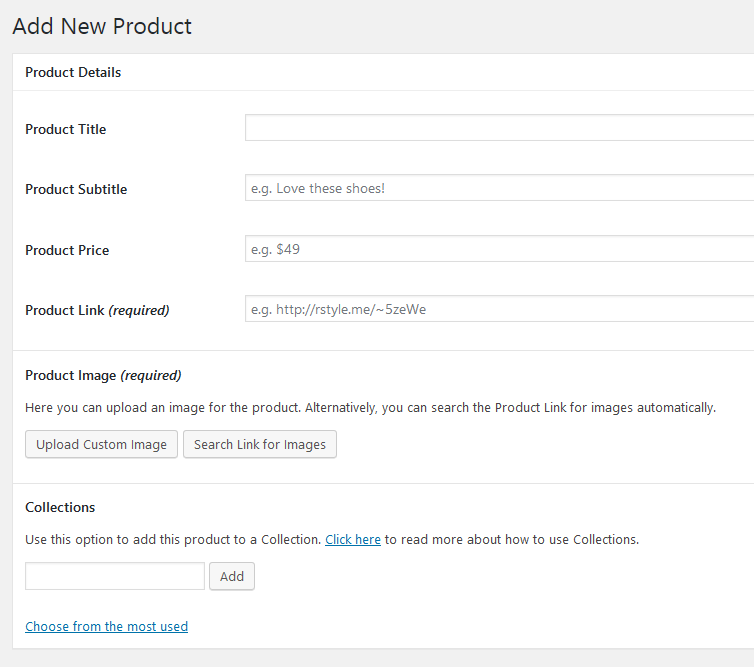 Let's take a look at the different fields available for products, starting with the ones which are required:
Product Link (required)
This is the link which is opened when someone clicks on the product. It can link to any url, including any kind of affiliate or referral link from places like Amazon Associates or Shopstyle Collective.
Product Image (required)
After you have included a link to the product, you can click the "Search Link for Images" button. This will automatically copy any images found in the link to your new product. However it may not work on all websites, due to some companies blocking such features. If no suitable images are found, or you would like to display your own image, you can click the "Upload Custom Image" button.
Product Title
This is the name of the product which can be displayed in your shop page or widgets, if enabled. You can also choose to not show the Product Title, however we recommend adding a title either way. This is because the title is used in other features such as the stats dashboard widget.
Product Subtitle
Similar to the Product Title, the Subtitle will be displayed underneath the main Title, if enabled in the widget options.
Product Price
You can also display a price for the product, if desired. This will be displayed in the shop/widgets if enabled.
Collections
This is where you can add the product to a collection. Please see this guide for more information about collections and how to use them.
After adding all the required information for the product, you can publish it using the options on the right side of the screen, just like editing a blog post. You can also save the product as a Draft if you don't want it to be published immediately.