The information on this page relates to our Shopr WordPress plugin.
Before getting started, you should import some demo products or add some of your own product links.
You can display a Collection of products within any post/page by using the "Shopr" button in the editor.
This will create a carousel of the products from the Collection which looks like the following example:
Simply click the "Shopr" button in your post editor and you can add any Product Collection. You can also display an optional title above the widget.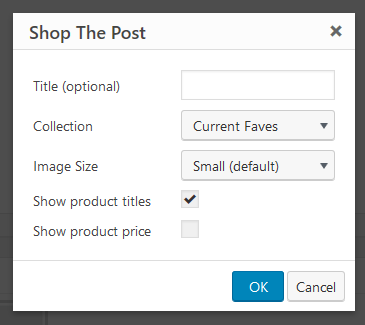 If you're using a pipdig WordPress theme, you can also display this type of feature on the homepage via this guide.
You can also add some extra options by editing the shortcode:
collection (Required)
Set the Product Collection which you would like to display in the widget.

size (view example of sizes here)
Sets the size of the images in the carousel. Can be "small", "medium" or "large". Defaults to "small" if not set.

title
Display a title above the widget. For example "Shop this look".

show_product_title
Display the product titles over each image. Defaults to "no".

show_product_subtitle
Display the product subtitles over each image. Defaults to "no".

show_product_price
Display the product prices over each image. Defaults to "no".

order
Display products in their normal order or randomly. Defaults to normal, set to "random" to display products in a random order.

You can also mix all the options together. For example: