WordPress will display your recent posts on the homepage by default. This article will show you how to create a static homepage. For example, you may wish to have a static homepage of information about your company/blog, then a blog page which displays your posts.  Or maybe you don't want a blog page at all, and just want to create a fully fledged website.
How to Set Up a Static Homepage
1. Log in to your WordPress Dashboard and head over to the Pages > Add New dashboard page. This will become your new homepage:
2. If you would still like to create blog posts on your website, you will need to create a new "Blog" page which will display your posts. To do this, repeat step 1, but call the new page "Posts" or "Blog", whichever you prefer.
3. Go to the Settings > Reading in your dashboard.
4. Look for the option near the top called "Front Page Displays" and set the options as shown below: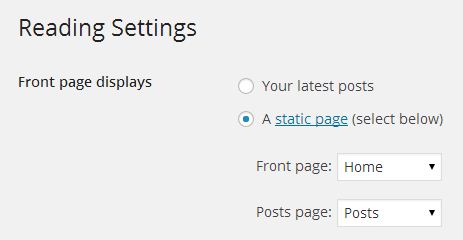 "Front Page" should be set as the "Home" page you created in step 1.
"Posts Page" should be set as the "Blog" or "Posts" page you created in step 2.
5. Now you've created a static homepage! All that's left is to update your menu items. Go to the Appearance > Menus. Using the options available, you can add a menu item for your new "Home" page and "Blog" page.
Now, open up a new window and type the URL of your website. Then locate your menu. Though it depends on your theme, it's usually located under the title of your site. Is there a "Blog" or "Posts" page? If there is, check if it redirects to a page with your posts.