Many of our themes come with some standard font options in the Customizer. You can find this in the "Font Options" tab if you theme has this option.
If you would like more advanced font controls, you may wish to use the free Easy Google Fonts plugin. If this is not installed already, you can install this by going to Plugins > Add New in your dashboard. Then search for "Easy Google Fonts".
Important information!
After installing the plugin, DO NOT use the "Default Typography" tab in the Customizer. The controls in this tab will not work correctly. Instead, you should create your own Custom Font Controls (see the guide above for further information on this). To get you started, we have created a range of Custom Fonts Controls for you to use. You can import these into your site by following the steps below:
1. Install and activate the Easy Google Fonts plugin on your site.
2. Download this file by right clicking and selecting "Download linked file as…" or "Save linked file as…" (or similar) as shown below:
3. Go to Tools > Import in your dashboard:
4. Select "WordPress" from the options:
If you are asked to install a plugin to do this, please follow the instructions on screen to do this.
5. Browse to the file you downloaded in step 2.
6. Click the
button.
7. Select your user account to be the author:
Leave the other options as default. Then click the "Submit" button. The Custom Font Controls should now be imported.
8. Go to Appearance > Customize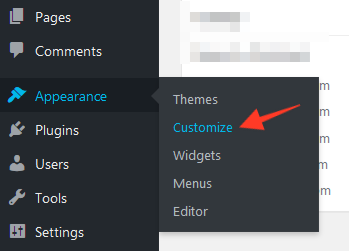 9. click the "Typography " tab on the left:
10. Ignore the "Default Typography". The controls you have just imported are located in the "Theme Typography" tab:
11. You should see lots of new options. Have fun 🙂
If you would like to create more font controls, you may wish to check out this guide.
Please note: This article is provided in the hope it will help you, but we cannot offer further support for third party plugins. If you need help with the Easy Google Fonts plugin, please ask on the official support forum.
Article tags: font, font size, typography, how to make font larger, how to change fonts, how to edit font