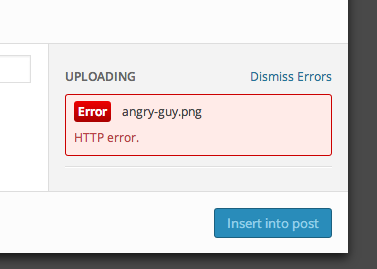 Image source: https://wpml.org/forums/topic/http-error-when-uploading-a-new-media/
Are you seeing an 'HTTP Error' message when you try to upload an image to a post? Please note, this is not related to the theme. However, you may find this thread useful in your search for a solution. This thread may also help too.
You may also have an image compression plugin installed, which can cause problems when uploading large images. You may wish to check if the plugin "Resize Image After Upload" is installed and active on your site. If so, you can deactivate this and check if it fixes the error.
If you need any help finding a solution, you should contact your web host to see if they can fix it at their end.
If you have any questions about this particular error and your pipdig WordPress theme, you are welcome to contact us and we will be happy to help.