If you see the "connection lost" error, any posts that were imported are not lost and you can continue the import as normal. Sometimes it may take several attempts to reach 100%. Please try again to check if you can progress further to 100%.
The connection can be lost due to a number of reasons. Most commonly it is caused by under-powered web hosting, the WordPress theme, or having too many WordPress plugins. When using some hosts, they will slow down your site if you use too many plugins or a slow theme.
We use Bluehost for hosting our sites and client sites and have not experienced any issues yet.
Here are some tips for easier migrations:
1. Activate a default WP theme such as "Twenty Fifteen". You can do this from the "Appearance" page in your WordPress dashboard.
2. Deactivate all plugins except for Blogger Importer Extended. You can do this from the "Plugins" page in your WordPress dashboard.
3. If possible, do not import blog post comments. Sometimes importing the comments can cause problems, due to triggering spam filter rules at your host. You can stop the import of comments be selecting this option: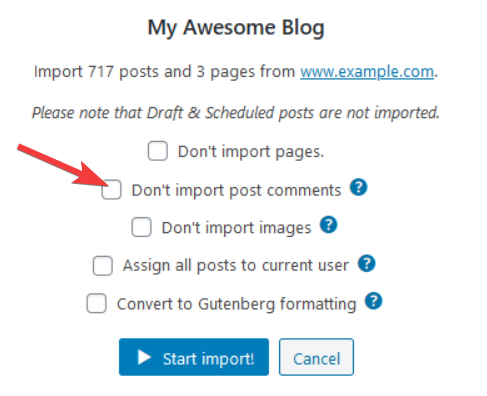 4. Make sure your host is using PHP version 7.3 or higher. More info here.
5. Increase the PHP Memory Limit to 256MB via this guide. Your web host will be able to assist with this.
If you need any help with the BIE plugin you are welcome to email support@pipdig.zendesk.com and we can assist you directly.